About Waterside Weddings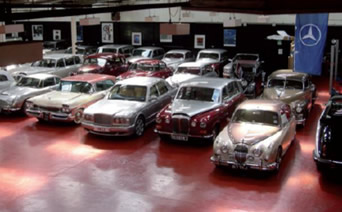 Eleven years ago David Reid our M.D. realised a long held dream, when he opened Waterside Weddings which is Scotland's largest classic car establishment, and one of the most respected in the U.K. It was not long before our range of beautiful classics were attracting female visitors, begging us to hire them out as wedding cars.
Five years ago, we made the decision to start Waterside Weddings, and with a 1963 Jaguar MK II and a 1960 Rolls Royce Silver Cloud II Waterside Weddings made it's first tentative steps into the wedding hire business. It soon became apparent that there was a substantial section of the market keen to hire vintage & classic cars.
With our unrivalled knowledge of what to buy and maintain, we took the decision to expand our present fleet of 75 cars. In securing these cars, distance was no object in the pursuit of perfection. From the west coast of California to the Great Lakes and Florida, Switzerland and Norway, we have travelled to bring you what we believe to be one of the best selection of classic wedding cars in the U.K.
"Please be assured that our dedicated and experienced team work to the most exacting standards to ensure your absolute satisfaction – our ultimate goal." David Reid, Managing Director