Coach & Minibus Service
Brand New 2014 Coach and Minibus Service
Due to popular demand we have just launched our brand new coach and minibus fleet for 2014. We have been in and dated with enquiries regarding providing our coaches and minibuses for your big day. We are able to offer a selection of different sizes including:
2x 53 seater coaches with aircon, leather seats, toilet facilities, tv's
1x 33 midi coach with aircon, tv's, leather seats
1x 17 seater minibus
We are emailing to offer our services as we are able to provide very competitive rates to take care of your guest needs during the day and also in the evening.
The coaches have all been fully revamped and are black on the outside and interiors have been fully renewed so rest assured like our wedding cars these will be immaculate throughout.
If you would like us to work out a quote please do not hesitate to get in contact and we will be delighted to assist. Why go anywhere else when we can take care of all your transport needs under one roof.
Many thanks for taking the time to read this and we look forward to hearing from you soon.
Please do not hesitate in filling out an enquiry form and we will endeavour to reply as quickly as possible with an all-inclusive quote.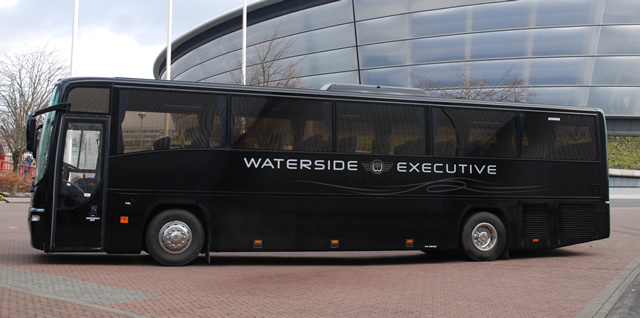 Please call Waterside Weddings on 0141 647 0333 Fax : 0141 647 0303 or email: [email protected] or you can simply complete the form below:-